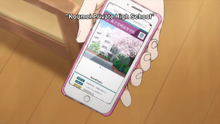 "Koumei Private High School" is a private high school in the Tsuki ga Kirei Anime. The school is located in Chiba and it is one of the best schools there.
Clubs
Track and Field
Baseball

The rest are unknown, but it is known the school is big on clubs.
Facilities
Uniform
The male uniform is unknown.
The female students wear a black coat, red bow tie and a skirt with a white shirt. Its pretty similar with Daisan's school uniform.
Students
Gallery