"Run, Melos!" (走れメロス, Hashire Merosu?) is the sixth episode of the Tsuki ga Kirei anime series.
Synopsis
Akane's big track meet is coming up, but she's flustered by Chinatsu's confession to her that she has a crush on Kotarō.
Characters
Plot
"I think have a crush on Azumi-kun." Akane felt uneasy about the message from Chinatsu, her best friend, before the convention of club activities. Kotarō who does not know about the message, got a call from a publisher to meet with him.
Shorts
Ending LINE Chat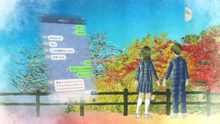 Girlfriend
Me: Aahh
Me: So tired
Girlfriend: Keep it up
Girlfriend: And hey
Girlfriend: If you pass this exam
Girlfriend: You're a working adult
Me: Yeah
Me: One last push
Me: Give me a hug
Girlfriend: HUUUUUUUUUUUUUUUUUUUUUUUUUUUUUUUUUUUUUUG
Me: Ooh
Me: So you love me this much?
Girlfriend: Enough to squeeze the air from your lungs
Me: Don't kill me!
Girlfriend: LMAO
Me: Stop that
Girlfriend: Smooch
Me: Oh?
Girlfriend: Well. This much
Me: Aaahhhhh
Me: Now I really miss you. It hurts
Girlfriend: LMAO
Me: Stop that

Trivia
"Run, Melos!" (走れメロス

,

Hashire Merosu

?

) is a Japanese short story by Osamu Dazai. Published in 1940, "Run, Melos!" is a widely read classic in Japanese schools. The story is a reworking of Friedrich Schiller's ballad Die Bürgschaft, which tells the story of Moerus and Selinuntius (who have lent their names to Dazai's characters as well), originally Damon and Pythias. Schiller's version is based on Damon and Pythias, an ancient greek legend, recorded by the Roman author Gaius Julius Hyginus.[1] The most prominent theme of "Run, Melos!" is unwavering friendship. Despite facing hardships, the protagonist Melos does his best to save his friend's life, and in the end his efforts are rewarded.
References
↑ Project Gutenberg's Poems of The Third Period, by Frederich Schiller, retrieved on July 21, 2008