"A Handful of Sand" (一握 の 砂, Ichiaku no Suna?) is the second episode of the Tsuki ga Kirei anime series.
Synopsis
It's the last sports festival of middle school. Kotarō gets put in the relay race. He becomes friends with Chinatsu, one of Akane's friends, who bandages his scraped hand.
Characters
Shorts
Plot
Kotarō is an inspired to be a short novel author, so he usually stays up late at night typing a short novel, causes him to be tired the next morning every day. One fine day, the school is hosting an annual sports festival, Akane does well in her 200 m sprint, while Daichi wins the tug-of -war event with his fellow teammates. Meanwhile, Kotarō falls over a race that went badly and scraped his hand, and later he received treatment from Akane's best friend, Chinatsu in the public health room. After the test session, the sports festival committee assembles and prepare the equipment for the next events when Akane unawares that she drops her Potato mascot while taking out the program list in which her doll mixes up with the sandbags. During the scavenger hunt, the technical problem happens when there are no slips in the box, a problem solved by Kotarō. Meanwhile, Akane was searching for her missing potato mascot after she discovered it was missing. Later, Akane accidentally drops her baton in the relay event, and her relay team finished last. After the sports meet, Takumi talks with Akane and gives her some encouragement after seeing her disappointed. Akane prepares to head home when Kotarō found her potato mascot and returns to her. That evening, Akane chats with Kotarō while thanks to him for the event that day. The next day, Kotarō receives pieces of advice from Daisuke and corrects his mistakes in his short novel writing about his encounter with Akane.
Ending LINE Chat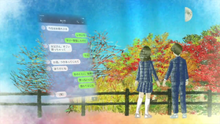 Wife
Wife: Thanks for today
Me: It's all right
Me: I was freaking nervous before though
Wife: Dad got so drunk
Me: Yeah
Wife: You had to drink a lot too
Wife: Thank you
Me: It was nothing
Me: And well
Me: I'm used to dealing with drunks
Wife: Lol
Wife: He seemed happy
Me: Phew
Me: When it was just us drinking
Me: Your dad, he
Wife: Yes
Me: He cried a bit
Wife: Really??
Me: "My beautiful daughter" he said
Wife: *Crying sticker*
Me: "I promise to bring her happiness!"
Wife: You said that!?
Me: …In my heart
Wife: Hahaha
Wife: I'll be counting on you
Me: Me too
Trivia
"A Handful of Sand" (一握 の 砂

,

Ichiaku no Suna

?

) is the the poet Takuboku Ishikawa first songbook.
References