"The Setting Sun" ( 斜陽, Shayō?) is the tenth episode of the Tsuki ga Kirei anime series.
Synopsis
"I might be moving to Chiba". Akane just received the recommendation for the entrance examination of high school, and Kotarō said that he also want to go to the same high school. Kawagoe festival which grew up in the upstroke, Akane who came with the Track members of can be fascinated by the appearance of Kotarō dancing in the float.
Characters
Shorts
Plot
Ending LINE Chat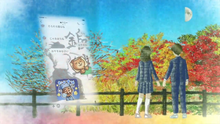 Honey
Honey: I'm going to sleep
Me: Okay
Honey: Bye
Me: Goodnight
Honey: Goodnight
Me: *Goodnight*
Honey: *Goodnight*
Me: *See you*
Honey: *Wave*
Me: *Excited*
Honey: *Kiss*
Me: *Lovestruck*
Honey: *Surprise*
Me: *Kissing you*
Honey: *Whoopee!*
Me: *LOVE ME!!*
Me: Not going to sleep?
Honey: You aren't
Me: I don't want to
Honey: Same
Me: Hahaha
Honey: Hahaha
Me: I'm getting payed next week
Me: I finally get to see you
Honey: *It's a joy*
Trivia
"The Setting Sun" (

斜陽

,

Shayō

?

) is a Japanese novel by Osamu Dazai. It was published in 1947 and is set in Japan after World War II. Principal characters are Kazuko, her brother Naoji, and their elderly mother. The story shows a family in decline and crisis, like many other families during this period of transition between traditional Japan and a more advanced, industrial society. Many families needed to leave their old lives behind and start anew. Throughout the story, mostly through the character Naoji, the author brings up a number of social and philosophical problems of that time period.
References