"Spring and Hard Times" (春 と 修羅, Haru to Shura?) is the first episode of the Tsuki ga Kirei anime series.
Synopsis
Kotarō and Akane bump into each other while at dinner with their families. Their parents make it as awkward as possible.
Characters
Plot
Kotarō is a Literature club member who is inspired to become a short-novel author, while Akane is a Track and Field club short distance sprint athlete. When the school starts in April, they become third-year students and happened to be in the same class. At the class, Kotarō starts to notice Akane who appears to be attractive.
After Akane returns home that evening, her family decides to eat out at a restaurant. Coincidentally, Kotaro's family is dining at the same restaurant that day. As such, they meet each other by chance and for the first time when both of them prepare their drinks at the drink bar. Their parents meet each other and started to converse and this makes the situation rather awkward. Before leaving, Akane wants Kotarō to keep their meet at the restaurant as secret from their classmates.
The next day at school, a briefing about the school festival is held and both Akane and Kotarō are responsible for and work together with the equipment staff at the sports festival, and began to be aware of each other. That fine evening, Kotarō submit his work through a post box and buy books from Daisuke at the latter's book store. The next day, when Kotarō is responsible to bring out the scoreboard from the storage room, Akane follows him there and they meet up with each other again. Akane then gives Kotarō her LINE ID and that evening, Kotarō is added into the contact list for the equipment group.
Ending LINE Chat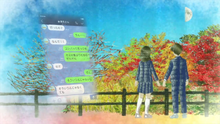 Boyfriend
Boyfriend: Did you go?
Me: Yeah…
Boyfriend: Why!!
Me: It's perfectly fine
Me: They call it a drinking party, but it's just a hangout for people in the same lectrue
Boyfriend: Lecture
Me: Lecture
Me: It's not what you think it is
Boyfriend: But still
Boyfriend: You shouldn't have gone!
Me: Why?
Boyfriend: Because you're cute
Me: !?😱
Boyfriend: There'll be guys trying to get you
Me: You know
Me: That makes me kind of happy…
Boyfriend: (怒`Д´怒) [Angry face]
Boyfriend: Well, you're already in University, so it's not like you'd care about me any more
Boyfriend: Even though I've got the mocks for my retake coming up tomorrow
Boyfriend: (・´3`・) [Pout]
Me: Sorry, sorry
Boyfriend: I wish I was in University alreadyyy
Trivia
"Spring and Hard Times" (春 と 修羅

,

Haru to Shura

?

) is a poem written by Kenji Miyazawa. It is also the title of the poetry which recorded this work. It is known as the only poem collection published before Kenji's life.
References